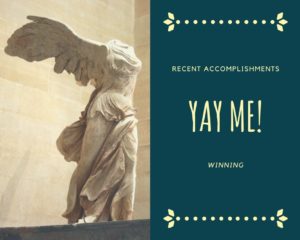 I think it's important in life to celebrate our successes. God knows, we spend enough time dwelling on our shortcomings. So, occasionally, I'd like to share some of my recent accomplishments with a Yay Me post.
If you know me, you know my life has been in various stages of upheaval lately. It's been difficult to lay a foundation during this multi-layered transition, but I'm a big believer in things coming together in due time. To quote the (sadly) late Tom Petty, the waiting is the hardest part. But I'm also a big believer in taking the time to do things right instead of rushing in and screwing it all up just for the sake of getting started.
Sometimes that bites me in the arse.
I'm not a patient person. Far, far from it, I'm afraid. But I understand the practicality and downright necessity of that trait. So, when I first moved to this new city, I told myself I'd look into local publishing opportunities.
Eventually.
But first … there were kids to settle. Boxes to unpack. Bedding and furniture to buy. I had to register my car. My daughter started a new school. My son got a job. Everyone had a new schedule. I had to find medical providers. And I had clients with projects that needed my attention and kept me busy each month.
I was frazzled. And tired.
However, as I knew it would, time finally allowed for me to seek local work. And I'm so glad I did.
My background is in magazines. I'm a feature writer, an editor, and, as previously discussed, a storyteller. But after what has, at times, been a rough transition, I had been questioning my abilities. So, I took every ounce of nerve I had and sent out a letter of introduction to a local newspaper, which is published every other week. It runs hard news – your usual local stuff – but it also runs business profiles and human interest stories.
My kind of work.
I was thrilled when the publisher replied within about 30 minutes of receiving my email. His editor replied soon after. A few days later, I met the editor at a local cafe, and it was an instant click. I'm sure it helped that I was confident they could use my skills and interests. And it certainly didn't hurt that we'd graduated from the same high school. From the start, it felt more like a meeting than a job interview. My Americano had barely cooled to a drinkable temperature when he asked if I could handle 3-4 assignments a week. 
Well, of course, I could. So glad you asked. 
But still, as with every new venture, I wanted to make a good first impression. It's one thing to let your portfolio talk the talk. It's another to walk the walk.
I was quickly assigned three pieces – two feature articles, and one business profile. I did my legwork, made some calls, looked up info online, and set up my interview for the business profile. It occurred to me that I wasn't nervous about any of it because, despite my recent transition and the accompanying self-doubt, this is what I've done for much of my 20-year career. Why should it be hard now?
My first assignment went smoothly and I cranked it out with ease, filing it in a matter of days. I wanted to complete it sooner, and I could have. But I'd had several busy days crammed with appointments and unexpected changes of plans, some of which was mentally and emotionally draining. I knew it was dumb to push myself to get it done only for the sake of meeting my own self-imposed deadline. Much better to wait and focus on it when my mind wasn't so frazzly-tired.
And, it occurred to me, that situation echoed exactly what I'd done when looking for local work. Yes, I could've sent out query letters and pitched ideas while I still had unpacked boxes. I would've established myself in my new market much sooner. But I think in the long run, it was better to wait until I could do it right.
Don't look now, but at 50 years old and counting, I just might be learning the necessity of patience.
What are some of your recent accomplishments?